'
TODAY'S INTERNET SPECIAL
RECEIVE ONE or TWO FREE MIXES!
We will surprise you with product that we think you will enjoy based on your purchase with any online order of $40.00 or more.
(A $7-$8 VALUE)
Sorry you will not be able to choose the flavors.
PLUS ALL ORDERS $60 AND OVER RECEIVE A 20% DISCOUNT
Featured Products

Onion & Chives
This dip is also great in so many recipes including twice baked potatos, deviled eggs and meatballs. Be sure to visit our recipes section.

.6 OZ (17g)
$4.00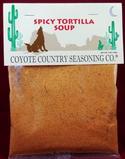 Spicy Tortilla Soup
This is the best Tortilla Soup!
Just add a few cans and you have about a gallon of restaurant quality Tortilla Soup. (Follow the Fiesta Tortilla Recipe)

5oz. (144g)
$7.00
Please enjoy this new website and mark the box at checkout to receive information on future promotions!

Also like us on Facebook!


Comments welcome at checkout!

Also shop the best virtual craft show at http://www.americascraftshow.com/